Intermarché is the historical store brand of the Mousquetaires, which adopted this name in 1973. It is also the brand with the largest number of points of sale and which defends a unique and highly committed positioning, that of "Producers & Retailers."


Helping our customers on a day-to-day basis, making it possible for them to buy at the fairest price, having a presence in local life, all the while establishing partnerships and supporting associations, that is what Intermarché seeks to do.
Intermarché is characterized by the commitment of its heads of business in the geographical areas and by its campaign to "Better Eating". The brand has always been able to keep pace with the times, meet new needs and innovate.
Intermarché is positioned with a unique model in the area of mass distribution, that of the "Producer & Retailer". Intermarché relies on the agro-food cluster of Groupement Les Mousquetaires to stay in better control of the chain, from field to table, by offering healthy products that are available to all.
Our brand has become one of the major ones in France, and is the second in distribution with 1,840 points of sale, or one point of sale every 17 kilometres! Intermarché has deployed more than 529 points of sale abroad, where our price policy contributes to our success.
Producers & Retailers resolutely make the difference
The unique Intermarché model provides the best price and the best product for better eating: Producers & Retailers. Agromousquetaires plays a strategic role here. The agro-food cluster of Groupement Les Mousquetaires and its production units guarantee the independence of the supply and make it possible to produce private label products in very diverse sectors. The products are distinguished by their quality all the while perfectly meeting consumers' needs.

Did you know? With Nutri-Pass, launched in 2006, Intermarché is at the origin of the first nutritional labelling feature in France. The leading brand of products made in France, Intermarché plans on continuing its approach of "better producing for better eating." Eating better also means eating healthier, with constant improvement of the recipes provided by Intermarché. By 2020, 90% of our food offer will be produced in France.
59
Agromousquetaires production units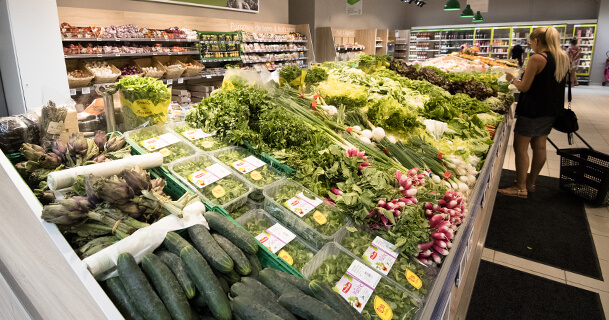 A brand connected to the Drive-Through
Ordering on Internet and pick-up from a dedicated point of sale or home delivery: since 2004, the Drive-Through concept has been revolutionising the way people buy things in France. Intermarché was one of the first brands to adopt—and develop—this kind of consumption, a form used by a quarter of French households.
1,495
Intermarché drive-through in France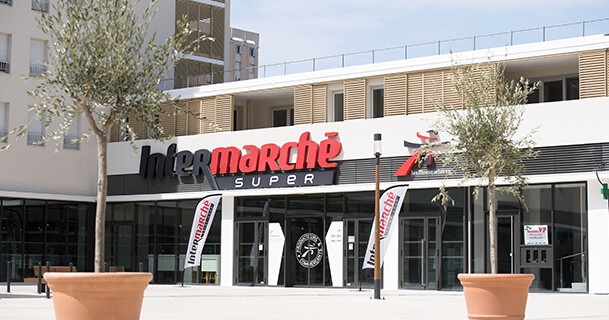 Four complementary Intermarché concept stores to meet all your needs
Proximity as a driver ! The Intermarché points of sale strive to adapt to their area and to their kind of local clientele. The Mousquetaires have been able to modernise this brand, which is broken down into four concept stores, in order to stay closer to customers.
Intermarché HYPER : the human-sized hypermarket
A complete food range that includes both national brands and local products, and complete non-food, multimedia and textile lines, as well as personal hygiene products and home appliances. The 92 Intermarché Hyper stores range in size from 3,500 to 6,700 m².
Intermarché SUPER : a made-to-order supermarket
With 1,351 points of sale, Intermarché Super is a concept with strong positioning. Located in suburban areas with store sizes running from 1,200 to more than 3,500 m², this kind of store can be adjusted to meet local demand and can offer either a balance between food and non-food goods or an almost exclusively food offer (90%). The custom supermarket !
Intermarché CONTACT : the friendly atmosphere of a market
Designed for a rural and family-oriented clientele, the 292 Intermarché Contact stores are both friendly and convenient. Each point of sale, ranging from 500 to 1,200 m², resembles a market that it is pleasant to visit and do one's shopping at, for both fresh produce and other food products.

Intermarché EPRESS: the offer for city dwellers
Urban points of sale par excellence, 97 Intermarché Express stores are now located in major city centres. In these stores running from 300 to 1,200 m², the fully self-service offer meets specific needs: practical products, leisure items and services such as home delivery.

Les Comptoirs de la Bio, a new partner
The first Intermarché organic lines were created in 1998. The brand has always had ambitions in this sector, now offering 3,500 references. Since January 2018, Groupement Les Mousquetaires has gone even further in favour of its commitment to eating better: a partnership with Les Comptoirs de la Bio, the third player of the fresh produce sector for organic products in France. This specialized approach will make it possible to adopt a different and complementary approach to better meet the customers' expectations.
With more than 150 points of sale and thousands of references, Les Comptoirs de la Bio specialised brand works according to the same model as Groupement Les Mousquetaires: that of independent retailers. The Mousquetaires heads of business are now able to open their own Comptoirs de la Bio organic food store, which respects the specificity of two circuits, the conventional one and the specialized one. The first shop was actually inaugurated in July 2018, at the foot of Mont Blanc.