A reference among French home improvement brands, Bricomarché has expanded its offer to cover construction, gardening, decoration and pet care products. Founded in 1979, it today boasts 672 points of sale in Europe located in towns of less than 50,000 inhabitants.


Bricomarché turns 40 ! Born in 1979, it is the second store brand created by Groupement Les Mousquetaires, after Intermarché, and the first one specialised in the home improvement sector. Over the decades, the evolution in terms of needs, the increasing craze of the French for home improvement and DIY(*), as well as their passion for pets, all led Bricomarché to develop five areas of expertise: home improvement, gardening, decoration, construction and pet care.
(*) « Do It Yourself »
Bricomarché store brand, a strong presence in three countries
Bricomarché today counts 672 points of sale, with 471 in France, where the brand is number three in home improvement. Beyond our borders, the concept has proven attractive in Poland (163 points of sale) and Portugal (38 points of sale). Bricomarché has also put together an on-line offer, with merchandise being either picked up in a store or delivered to the home.
672
Bricomarché stores in Europe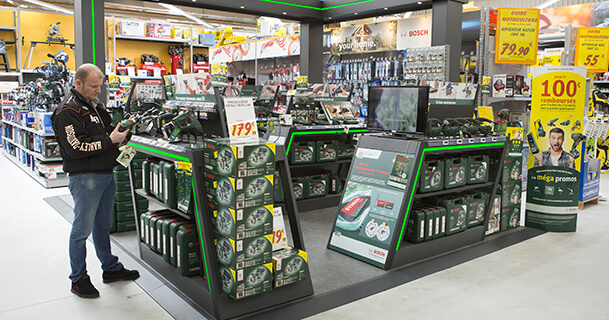 An unparalleled quality/price ratio
Providing goods at a fair price is the daily challenge that Bricomarché rises to meet. The primary weapons for winning the price war are private labels, which account for 7,000 references, and the strength of Groupement Les Mousquetaires' logistics system.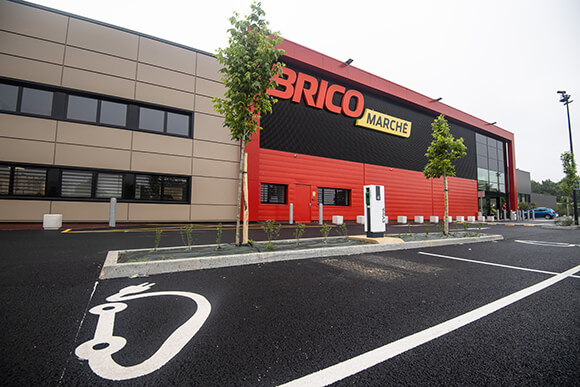 Bricomarché stores adapt to their environment
Covering five areas, each Bricomarché store is designed to fit into its environment, usually a medium-sized city of less than 50,000 inhabitants. The cream of local stores, their sizes can run from 800 to 1,500, 2,400 or even 3,500 m². In larger cities, customers can take advantage of the expertise offered by another store that belongs to Groupement Les Mousquetaires: Bricorama.
Products for a broad clientele
From budding gardener to experienced home improvement buff, the animal lover to the queen of decoration, Bricomarché has something for everyone. Anyone can walk in and find what they need to succeed at their projects, what's required to meet their expectations, and everyone can take advantage of the expert advice. "Doing everything for less !" A promise kept !