Our commitments as responsible producers:
In 2016 Agromousquetaires announced their progress plan for a sustainable seafood division by 2025.
Agromousquetaires is committed to improving the fishing practices of its fleet and the processing of its fish and seafood products which make it possible to stock the seafood sections in Intermarché and Netto points of sale.
This change means that by 2025 the fleet will have to be transformed, specifications will have to be modified and activities made more diverse while keeping employment and competitiveness within the division.

Towards sustainable and responsible fishing
As part of the 2025 sustainable seafood plan, the fishermen of our fleet work while respecting the ecosystem in which they operate. Their actions primarily concern :
Respecting the minimum catch size
Closing areas during the reproduction period for certain species
Keeping non-organic waste aboard
Fighting illegal fishing
With a self-imposed ban on fishing deeper than 800 meters in place since 2015, our Agromousquetaires division is working with Bloom Association on the request for a moratorium on electric fishing, which has been forbidden by the Parliament of Brussels since January of 2018. The plan also includes evaluating fish resources and changing the division to improve fishing techniques and better target plentiful species.
One of the examples of this commitment to sustainable fishing is the freezer-longliner "L'île de la Réunion II". This recently baptised vessel was designed to combine respect for the environment, energy savings and crew safety.
Scapêche, leader in fresh fish
A lot of ground has been covered since 1993, the year of the purchase ofthe first fishing vessel!

With Scapêche, Société Centrale des Armements of the Mousquetairesfor fishing, Agromousquetaires controls its direct supply of sea products, their processing and distribution to the Intermarché and Netto points of sale.

Scapêche is the largest French ship-owner for fresh fishing, with a fleet of 22 vessels and an annual fishing volume of more than 17,000 tonnes.

Based in Lorient, present in Brittany, as well as in Scotland, Ireland and La Réunion, Scapêche sails under a French flag in French and European waters to supply the points of sale with fresh fish as part of a responsible fisheries policy.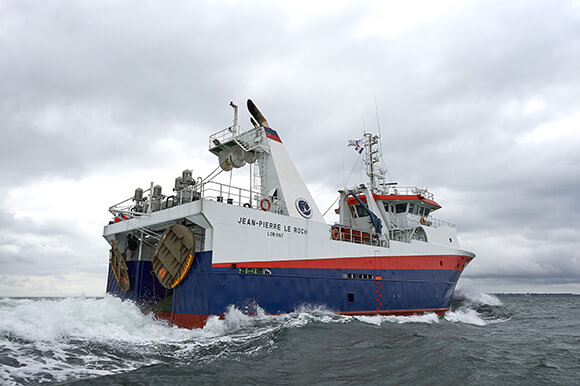 CONTACT

Jean-Pierre Le Visage
Mail : jean-pierre.le-visage@mousquetaires.com

La Scapêche
17 boulevard Abbé Louis Le Cam – CP 18 – 56326 Lorient Cedex – France


Artisanal fishers, partners of the Mousquetaires
The seafood business line of Agromousquetaires plays a driving role in maintaining and developing French fishing. To do this, Scapêche supports artisanal fishers through partnerships and participation in local companies.

In the region of Boulogne-sur-Mer, Scopale is a new form of cooperative naval construction, in this case between Scapêche, the maritime cooperative Pêcheurs d'Opale and the ship owning Group Le Garrec of Boulogne.

The vessels built as part of this partnership provide access to the local resources via coastal, seasonal and artisanal fishing. The boats, such as the "Rose de Cascia" and the "Marmouset 3" are equipped to fish for varied species which are then sold in Intermarché and Netto stores.

This unique model of co-ownership meets two requirements: first, the sustainability of French fishing and making it possible for skippers to build their own boats. Moreover, they are sure to have opportunities. A win-win situation!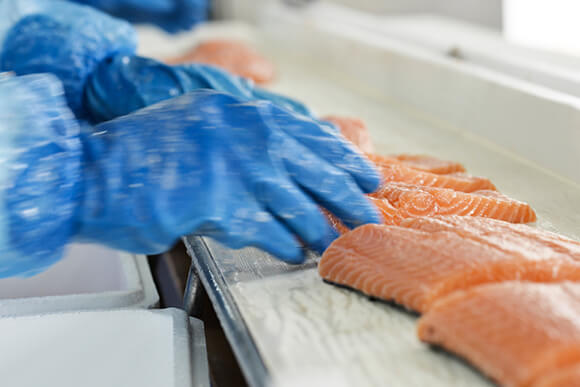 Capitaine Houat : the processing expert
Capitaine Houat plays an important role in the seafood business line of the Mousquetaires. With 40,000 tonnes of fish, seafood and shellfish processed each year, it is the leading French wholesaler.

In charge of filleting, packaging and processing some of Scapêche's catch, Capitaine Houat employs 520 workers at two sites, which are certified ISO 14001. The first was opened in 1988 in Lorient Lanester with the acquisition of a fish processing workshop. Rebuilt in 2012 after a fire, it now has a volume of 17,000 m² and houses 15 production lines. This is where the filets, salmon pavés, shrimp and other self-service products are processed for Intermarché stores.

The Boulogne-sur-Mer site opened its doors in 2006 with an area of 8,500 m². Its six production lines provide fish filets, salmon pavés and self-service products for the Group's stores.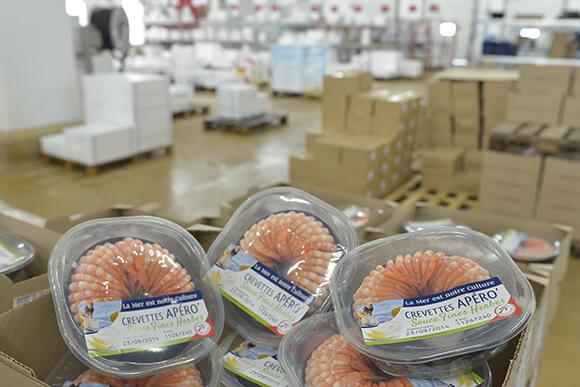 CONTACT

Amaury De Lépinau
TEL : 06 13 86 13 48 | Mail : amaury.delepinau@mousquetaires.com

Capitaine Houat
ZA Aqualique – 4 place Léon Calon – 62200 Boulogne-sur-Mer – France
315 rue Germaine Tillon – 56600 Lanester – France