Groupement Les Mousquetaires has made a crucial choice, that of keeping under control the entire logistics chain. With one goal: providing the best possible service to its thousands of stores at the lowest possible cost.


Buying, storing, transporting: Groupement Les Mousquetaires logistics is independent thanks to two subsidiaries: ITM LAI for food products and ITM LEMI for other products. The stores in France, as well as in Belgium, Portugal and Poland, are serviced by these two structures and their fleet of 2,300 trucks, representing no fewer than 900 million packages delivered per year!

Procurement is done at the international, national, regional and local levels thanks to dedicated purchasing offices. For food in particular, priority is given to local partners, followed by regional and national ones.
2,300
trucks to supply the stores
Storage and clean transport
The products are stored in the Group's logistics centres, which are scattered throughout the country. These platforms are strategically located along major routes in order to make it easier for the trucks to get on and off the road. The flow of merchandise is perfectly controlled and the transporters' work is facilitated.

From the centres, the trucks bearing the Mousquetaires' colours make deliveries to the points of sale several times a week. The close proximity of the logistics bases guarantees the freshness, quality and availability of the products. Reducing the number of kilometres is part of the Group's sustainable development policy. To promote it, the Group has also set up a fleet of trucks powered exclusively with natural gas or biogas.

The Group's logistics is handled by a team of more than 7,400 employees using powerful and modern IT tools, which optimize the supply, operation and transport.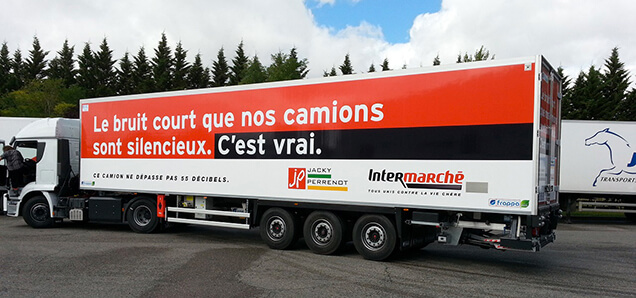 3rd
logistics company in France
Modernsation, the challenge of the profession
Groupement Les Mousquetaires is committed to transforming its network of logistics bases in order to make them more modern.

The goal is to maintain and develop our competitiveness by responding to the evolutions of the logistics profession as well as to changes in the coverage of our current and future points of sale.

This responds to the changes and challenges of the logistics profession:
The evolution of the operational processes with the use of new technologies such as, for example, mechanisation and automation;
The need to improve working conditions, most notably by reducing the arduousness of work
The reduction of the environmental impact.
This transformation also anticipates the changes in terms of the coverage of our network in relation to demographic and commercial changes, as well as changes in volumes for each of our points of sale.

We seek to constantly improve the quality of the supply service we provide our points of sale with all the while maintaining our competitiveness. All of this with a view towards providing our customers with the best selection of products at the lowest possible price.